Roof Panel Roll Forming Machine Enjoying a High Admiration
Roof panels play a very important role in building houses. Good quality roof panels can make the buildings enjoy a long service life to save much trouble for some civilians. Our attractive, durable and good performance roof panel roll forming machine is here for you a viable choice which can meet your various demands.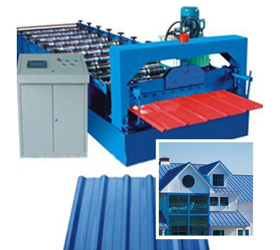 We are AGICO, a manufacturer of different kinds of high quality roll forming machines. The roof panel roll forming machine produced by us is economical and affordable to you. It adopts advanced technology and can also be specially designed and customized according to the requirements of the end users. At the same time, we also instruct the users to install, debug, produce and maintain the machine.
The roof panels solve the roof leakage problem of conventional series pressure plates. So they have a very good and complete water-proof effect. The pressure plates rolled by roll forming machine have the advantages of elegant shape, high wave crest and big intensity. They are safe and reliable to lap and install, having the features of anti-water and anti-explosion. The roof panel roll forming machine consists of several parts like supporting table, feeding guide, main motor, forming shear device, hydraulic unit and computer control system.
We AGICO have been enjoying a high admiration for our good quality products, competitive price, timely delivery and considerate after sale service in roll forming machine industry. We are changing, making progress every day in order to win a place in the rapid development market.