The Application of Roof Roll Bending Colored Steels
The colored steel is a kind of steel plate produced by roof roll bending machine with organic coatings and it has the features of good corrosion resistance, bright color, beautiful shape, convenient processing forming and low cost. It can be used as the main materials of mobile houses and roof plates of steel structure.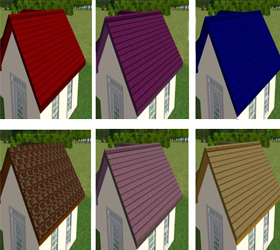 Whether the colored steel produced by roof roll bending machine is ordinary or light weight type, its inertia moment difference of the two cross section main sleeves is very big for the reason that its sectional size is both relatively high and narrow. Thus, generally it can only be used directly in the bending components within its web plane or make itself into relevant components.
This kind of steels is high-efficient and economical cutting surface profiles, among which there are also thin-walled cold-formed steels and profiled steel sheets. Because they have a proper cross section shape, they can make steels perform well and improve their bearing cutting ability. They can be widely applied in construction, household appliance and transportation etc.
The colored steels produced by roof roll bending machine also have the advantages of fast using speed, comfortable applying, anti-earthquake, durable use and sound insulation. The house building is totally dry operation without influenced by seasons so they have a fast using speed. They are comfortable using due to the high-efficient and energy-saving system of the walls. They can resist earthquakes for the triangle roof truss system made by cold formed colored steel components. The durable use is for their long service life. The sound insulation advantage is because of the walls consisting of light steel keels and high preservation material gypsum board.