Advantages of Used Roll Former Sale You Cannot Ignore
Quite a few people prefer to buy second-hand things in their daily life which are economical, durable and affordable. There are three big advantages of our used roll former sale you cannot ignore.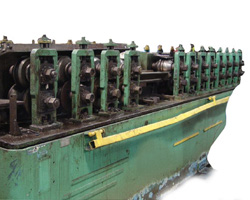 First of all, used roll former sale is economical and affordable. If your budget is a little tight and you also need to buy used roll former machines, you can take our secondhand machines into consideration. They are cheap and durable which can save you a large amount of money. We can offer you a variety of machines which will satisfy your different demands.
Secondly, the discount rate of used roll former sale is low. The value of any new roll former you bought is reducing every year whether you use it or not. However, if you buy a used one, it means that others are paying for your discount rate. You can also sell it after several years' using, which can also be sold at a good price.
Last but not least, the maintenance cost of our used roll former sale is much less than a new one. You can use it more conveniently. A new machine will cost you much painting and maintenance fees while a secondhand is much lower. Small scraping and touching won't matter very much as long as your machine can run very smoothly. You can also have a refurbishment and beauty for it at one time when the problem is big.